October 24th, 2019
The long travel day of National Park exploration wound down with some stunning fall colors as we drove north, skirting along the Slovenian border and into farmland. The running joke were the many wooden roadside stalls that advertised "Sir Cheese" and "Med Honey" – 'sir' being the word for cheese in Croatian, and 'med' for honey. Odd mental images aside, the drive through the late October countryside looked much like this.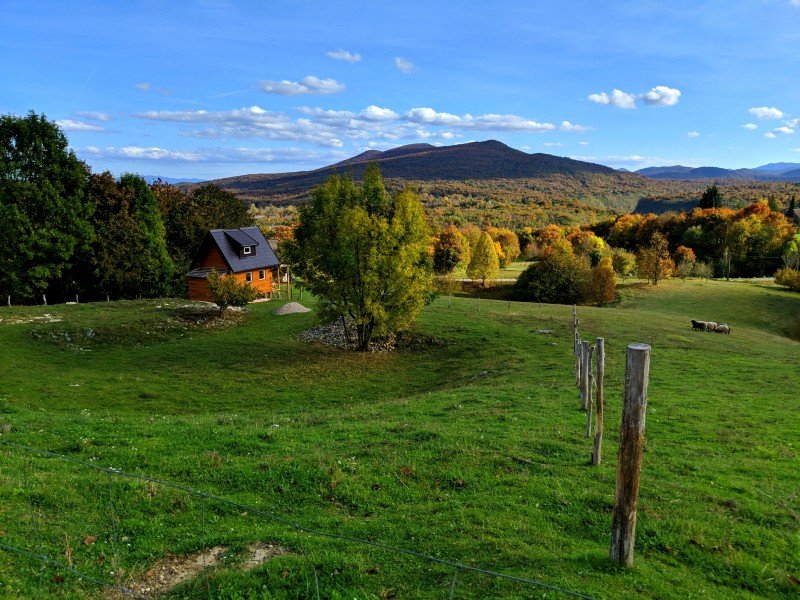 The goal of the day was to make it to our first 'Villa', rented via AirBnB. In another instance of low-season booking, we found a villa with three bedrooms, a pool, and lots of space. The drive to get there turned from beautiful fall colors to a winding country-road nightmare as road construction in our final pass-through town led us on a  serpentine goose-chase through country roads. Exhaustion and then uncertainty can lead to much frustration after a long day of travel. After many  google maps re-routes and punchy 'WTF' moments of barely  censored driving and we finally made it to Rojnici, the tiny area that housed our villa.  First impressions were not good with  construction machinery and half-finished construction projects, but our villa was a fully finished (recently) house with new furniture and appliances. The pool was glowing blue at night and we were relieved to find high-quality beds and pillows (the foundation of good travel we've found).
Not surprisingly, Abby and I find great happiness, relief, even exaltation when Ada is content on  a day  of transition.  So  a wave of exhaustion erasing solace came over us when in the first three minutes of arrival, we hear Ada yell "KITTIES!!!!". And sure enough, a pair of friendly cats were waiting out on the patio for food and snuggles. Thus began a five day love affair with the cats that Ada named 'Oliver', 'Sydney', and 'Willa'.
I would say that Ada spent HOURS going in and out of the house,  petting, playing with,  feeding, and generally being with these  Croatian  cats.  Abby too fell  in love, specifically with the good natured  Oliver. Half-hearted requests to bring him home with us were made…but alas we had to just enjoy the local culture without bringing it with us, especially with a whole 3 months of travel remaining!
Our time at the first Istrian villa was marked with lounging around with cats, and with  taking occasional  day trips out to the two local cities nearby  – Pula and Rovinj.

Pula is perhaps best known for having the largest intact Roman arena. I only read the words 'Roman Arena' in a guidebook, but didn't have high expectations when planning a haphazard afternoon daytrip to the city. With hindsight it's safe to say that the lack of expectations led to total disbelief at the scale of the architecture in this massive Roman arena. Built on a hillside, fully encircled in marble, and complete with an underground story built for animals and gladiators to stage battles, we were all a bit stunned at what we stumbled upon in this city. To top it off, in the low season we were three of about 12 people who were exploring the ruins that once could hold 20,000 Roman spectators. This was a the MOST IMPRESSIVE architecture of the trip thus far.
The second city where we took multiple trips was Rovinj – a city marked by Venetian architecture, truffles and Italianate food. Perhaps one of the most memorable things we did on this round-walled coastal town was to rent three bikes for an afternoon and travel along the coastline on wheels. Stopping at a secluded little cove, Ada and I jumped in the cool (yet clear!) waters. Some shrieking and trepidation stemmed from the discovery of a couple dozen tangerine-sized tr