Personal
I am designer, photographer, and lover of the outdoors, based in the beautiful green space that is Oregon. My family and I live on our own little bit of green (4.8 acres) just outside of Eugene where we enjoy dabbling in various country life endeavors like raising goats and chickens. You can read about our ongoing forays in hobby farming and home building on our Tumblr blog.
One of my passions is playing the piano, an activity that unfortunately gets swept under the rug with the busyness of work and family. In my precious free time I enjoy playing the works of romantic-era composers like Chopin and Debussy. Music is a catalyst to my creativity and piano is my favorite way to unwind after a hard day's work.
I'm originally from Nevada, but after 15 years of bonding with the damp and leafy Pacific Northwest, I am a true Oregonian at heart. My appreciation of nature serves as a source of creative inspiration as well as a counterbalance to my digital work space.
Professional
I am a maker by nature and an Associate Creative Director by day, with over 14 years of experience in graphic design, including print design, branding, creative direction, web design, photography, illustration, packaging design, and copywriting. My areas of focus are responsive web design, branding, and food and beverage packaging. Outside of the digital design world my go-to medium is paper art, an analog/digital technique I have used for several projects (like this one), as well as a few packages currently in your local grocery store.
My design philosophy is simple: Be brave enough to suck at something new. 
As designers, I believe we should always seek out work that pushes us out of our comfort zones and forces us to learn and innovate. Part of that process involves a desire to take on projects that are out of our wheel-house. In my own process as well as when directing others, I always encourage people to take on projects that are either out of their area of expertise or involve learning a new technique. I believe we should never say "It can't be done" and should never constrain creative thinking just because we don't have the technical skills to pull it off. Experimentation, risk-taking, and failure lead to growth and innovation and ultimately, great work.
Just be brave enough to suck at something new.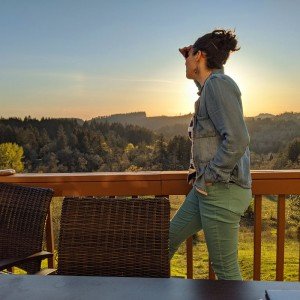 Contact Me